2019-2020高二英语上册期中考试试卷下载及答案分析
2019-2020学年上学期期中考试高二英语试卷,此试题由房山高中英语家教辅导班整理汇总,大家可以下载PDF/Word格式(含答案分析);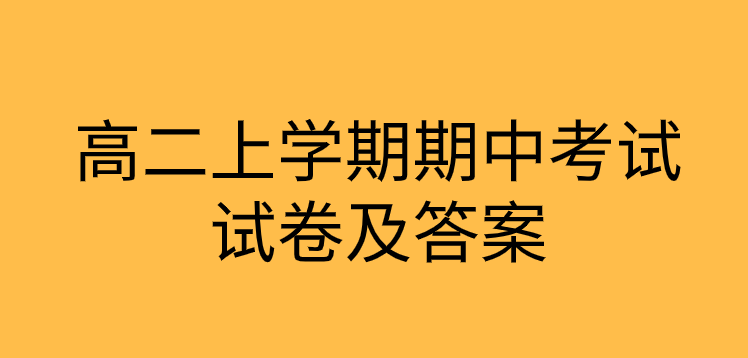 2019-2020学年高二上学期期中考试试卷
高二英语
(考试时间:90 分钟 试卷满分:120 分)
1.本试卷由三个部分组成。其中,第一和第二部分的第一节为选择题。第二部分的第二节和第三部分为非选择题。
2.答卷前,考生务必将自己的姓名、准考证号填写在答题卡上。
3.回答选择题时,选出每小题答案后,用铅笔把答题卡上对应题目的答案标号涂黑。如需改动,用橡皮擦干净后,再选涂其他答案标号。回答非选择题时,将答案写在答题卡上,写在本试卷上无效。
4.测试范围:人教必修 5 。
5.考试结束后,将本试卷和答题卡一并交回。
第一部分 阅读理解(共两节,满分 40 分)
第一节 (共 15 小题;每小题 2 分,满分 30 分)
阅读下列短文,从每题所给的 A、B、C 和 D 四个选项中,选出最佳选项。
A
The Visitor Oyster card
A Visitor Oyster card is the cheapest way to pay for a single adult journey in London. It's a plastic smartcard. You can use it on the bus, tube, tram, DLR, London Overground and most National Rail services. It's much cheaper than buying individual tickets, in some cases costing 50% less than the price of a regular paper ticket.
How to get a Visitor Oyster card
You can buy a Visitor Oyster card online. Your card will be delivered by post. The card costs £5 and you choose how much money you want to add to the card. This means you can start using the card the moment you arrive in Central London.
How does the Visitor Oyster card work?
The Oyster card works on a pay-as-you-go system. You start by adding money to the card. Then you travel, the cost of the fare will automatically bed educted from your Visitor Oyster card. For example, if you add £20 to the card and make a tube journey of £2.30, you will have £17.70 left on the card.
A few more points:
·A child under the age of 11 travels free when accompanied by an adult.
·You'll save more money if you use the tube several times. The Visitor Oyster card is "capped (给……定上限)" at £6.80 per day.
·You'll pay more during peak times. Peak fares apply from Monday to Friday (6:30am—9:30 am; 4:00 pm
—7:00 pm), except for public holidays.
·Reuse the Oyster card by adding credit at a tube station, Oyster ticket shop or Visitor Centre.
D.
You can receive a 50% discount at any shop in London.
2.How much money will be deducted if you take the tube four times in a day with a Visitor Oyster card? A. £2.30. B. £3.40.
C. £6.80. D. £9.20.
3.Where can you add credit to your Visitor Oyster card?
A.On the Internet. B. At a bus station.
C. At a tube station. D. In convenience stores.
B
The bus screamed to a stop in Nazareth, Israel. Five Australian backpackers boarded and struck up a conversation with me. They asked typical travelers' questions—where was I going and why was I traveling alone? My plan was to travel with a friend of a friend, I explained, but when I called her that morning, she didn't pick up and I had no other way to reach her. My stomach was in knots, but I decided to head out anyway, thinking I might run into her if I traveled to Tiberius, where we had planned to go together.
"Why don't you travel with us?" one of the backpackers offered. They were experienced adventurers who would work for a few months, save, then travel for as long as they could. Their current plan was to explore the Middle East and Europe in three months while working in London.
It seemed risky to travel with strangers, but my instinct said yes. For the next two weeks, I explored Israel with the backpackers and learned to trust my instincts in all types of new and interesting situations. When they hook a ride, I took the bus, but when they wanted to steal into the King David Hotel's swimming pool, I led the way. The world opened up to me because I chose to travel alone. I joined complete strangers, who become close friends. Years later, one couple from the backpacking group even flew from Sydney to Phoenix to be in my wedding. The trip was such a special experience that it gave me confidence in all areas of my life. Since then, I've backpacked alone across South Africa, sky-dived from 12,000 feet in New Zealand and even moved across the U.S. with no job lined up.
On my third day wandering in Israel with my new friends, I bumped into the woman I was supposed to meet.
Though I was happy she was all right, I was grateful she hadn't picked up the phone.
4.By "My stomach was in knots" (in paragraph 1), the author most likely means that she was .
A.sick of riding on a bumpy bus B. nervous of meeting strangers
C. upset about the sudden change D. sorry about the impractical plan
5.Which of the following best describes the backpackers the author met?
A.Courageous but disrespectful. B. Jobless and poorly educated.
以上是网上一对一家教老师整理的资料,下载完整版 Word格式的同学请关注【北京高中生学习】公众号ID:bjgzsxx